How Can I Contest My Parking Ticket in San Antonio?
Getting a parking ticket is never fun. It's made even worse if you weren't completely in the wrong. In San Antonio, there are a couple of ways you can contest your parking ticket if you have evidence the offense was not committed.
First, you must make sure your parking ticket case has been created within the courts. You can do so by checking the municipal court website. If a case has not been created yet (your parking ticket has not been filed) and your hearing date is scheduled before the case is made, a new hearing date will be made for you.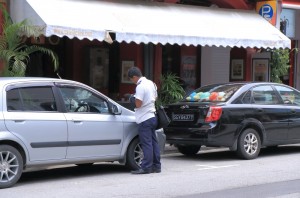 The first way to contest your parking ticket is to show up in court on your hearing date (found on the ticket). In court, you will present your evidence to a Parking Hearing Officer, who will make a ruling. Secondly, you can mail in a letter and your evidence to the San Antonio Municipal Court. Be sure the letter contains your parking ticket number, or your evidence cannot be reviewed. If the evidence is sufficient and the Hearing Officer rules in your favor, your case will be closed. However, if the ruling is against your case, you will be responsible for the penalties associated with your ticket.
Photo courtesy of Depositphotos.