Steps to Take After a Personal Injury
Being injured can create a huge burden in your life and depending on how severe the injury is, it can take you a while to get back to life as normal. Injuries can be overwhelming and your legal rights are usually the first thing you think about after being in an accident, but it is important to know what steps to take in order to protect your rights if you later decide to take your injury case to court.
Step 1: Get the police report
If you were involved in an incident that involved police such as a car accident, they probably wrote up a police report. You can usually get a copy of the police report and use it in your personal injury case. A police report can be handy when disputing your personal injury and you or your attorney can use the facts from the report in negotiations of your case. Having these facts will put you at an advantage and can be useful in proving your side of the case. The police report may also provide witness contact information and witness statements. All of this is extremely helpful when trying to win a personal injury case. Be aware that depending on your location you may need to pick up the police report in person or may need to pay a fee.
Step 2: Preserve evidence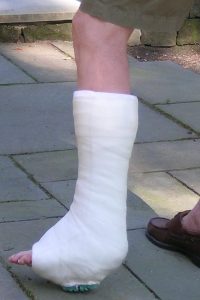 It is important to preserve evidence after your accident if you want sue for your injury. Write down notes about the incident as soon as you can so that you don't forget any details. Your notes should include what happened, what injuries you suffered and how those injuries affect your everyday life. Include what happened before, during and after the accident that led to your injury and make sure to add the time, place and even weather conditions, if there was anyone else present, what was said and what your experienced and felt. Be as detailed as possible. Your evidence should also have and medical treatments you received and any work you missed because of your injury.
Step 3: Hire a lawyer
Hiring a personal injury lawyer can help you understand your options and will help you fight for the compensation you deserve. If you'd like to speak to a lawyer about your options in a personal injury case, contact us here.
Photo courtesy of Wikipedia by JanSLWC.