What Should I Do Immediately After a Car Accident?
Car accidents are scary and can leave you shaken up. Even when you're overwhelmed and possibly injured, it is important to make sure you take certain steps to ensure you can be compensated by your insurance for the damages to your vehicle and for any injuries.
Steps to Take After a Car Accident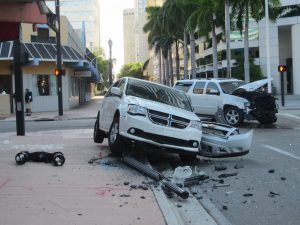 Stay at the Scene
Never leave the scene of a car accident until everything has been resolved. A hit and run is a serious crime.
Check on Other Drivers Involved
Before checking the damage to your car, make sure the other people involved are okay. Also do a self check to make sure you are okay. If you have any injuries or soreness, report them to the police.
Call the Police
Calling the police in the case of any accident is always a good idea. If it's a bad accident, calling the police is required. A police report will always be useful for insurance purposes.
Exchange Information
Get the names, numbers, addresses, drivers' license numbers, license plate numbers and basic insurance information from all the drivers that were involved in the accident. It's always smart to get any passenger information as well. They can be used as witnesses.
Take Pictures
Takes photos of all the damage, the area where the accident occurred and anything else that may show what caused the accident. Photos help you insurance adjuster determine who's fault it is and assess the cost of the damages.
Get Witness Statements
If anyone saw the accident, ask them what they saw and write it down. Get their names, numbers and addresses if possible.
Talk to you Insurance Company
Call your insurance company as soon as possible to report the accident. Tell them in detail what happened and send them any evidence or medical records you have.
Keep Documentation of all Your Medical Treatment
Note all the medical care you've received and why you received it. You medical records and bills can be used by your insurance as well.
Consider Hiring a Lawyer
If you are not getting the compensation you deserve, consider talking to a lawyer. All the evidence you have already collected will be helpful if you need to file a lawsuit.
Photo courtesy of Phillip Pessar by Flickr .