Common Mistakes when Reporting a Workplace Injury
If you are hurt in a workplace accident or have been diagnosed with an illness related to your line of work you may be entitled to compensation and restitution from your employer. The steps you make in the first few days of discovering your ailment will affect the outcome of your workplace injury claim.
Here are some common mistakes that employees make when reporting a workplace injury.
Not Telling Anyone
Many employees are reluctant to report a work­related injury. Employee hide their injuries either out of fear of repercussions or simply embarrassment. They may think that the injury will heal itself or not be serious. However, neglecting to report a workplace injury can hurt your chances of receiving workers compensation. We recommend that you report your injury immediately after it occurs to mitigate any confusion in the worker's comp process.
Not Seeking Medical Attention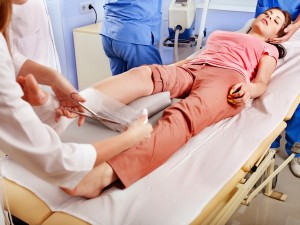 Similar to our first point, one of the major mistakes that employees after being injured on the job is waiting to visit the doctor. Your doctor can diagnose your injury and get you started on the path to recovery. Additionally, your physician will take a statement while the details of the accident are still fresh in your mind.
Finally, prompt medical attention will make it easier to convince insurance adjustor and the Worker's Compensation Commission that your injury is serious and affects your work. Be thorough in your description of events and tell your doctor about all of your symptoms.
Providing False Information
Shockingly, some people believe that embellishing the details of their accident and symptoms will give them a stronger claim. Insurance companies are well trained to seek out individuals who have been deceptive when making a claim. If you are caught lying or exaggerating your injuries you could face legal action and possibly lose your job!
Honesty is always the best policy. Be forthright and transparent about your injuries and you will be awarded necessary coverage for your workplace injuries.
Waiting to Contact an Attorney
Regardless of your professional relationship with your employer, it is important to secure proper legal representation when filing a workers compensation claim. An attorney will be able to objectively view your case and fight for adequate compensation. If you have been injured on the job give us a call today!
Photo courtesy of Depositphotos.